Sat, 30 Dec 2006 22:05:00
GAME OF THE YEAR on GAMETUNNEL!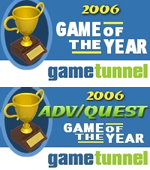 "...Gumboy is a stellar title, with great visuals, quirky sound and an endearing premise. It is a game that is equally unique and innovative as the oft-compared Gish. Gumboy is the kind of game that really shows what independent games are all about, it's a game that every gamer should spend hours getting to know better. Those who do will be rewarded with a unique experience that rolled away with our award for Adventure Game of the Year."
GAME TUNNEL AWARDS FOR GUMBOY:
· TOP 10 GAME OF THE YEAR 2006
· ADVENTURE/QUEST GAME OF THE YEAR 2006
· 2nd GRAPHICS GAME OF THE YEAR 2006
· 5th INNOVATION GAME OF THE YEAR 2006